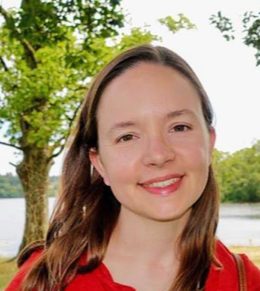 My thesis project involved revitalization and aesthetic improvement within the University Community Area (UAC) through Project Community Unity and Beautification (Project CUB).
 Over the summer, I participated in volunteer activities including helping to write a mini-grant for a cleanup and creating a stand-up poster board for CPU-4-U for a Youth as a Resource (YAR) convention.  Project CUB became the centerfold of my YEA! experience. YEA! received the mini-grant funding for creation of a nature trail and maintenance of a community soccer field. This ongoing project dealt with creating a more friendly and safer neighbourhood for the UAC's residents, the conservation of the surrounding lands, the education of community members about the environment, and the initial steps in creating a park.
 Through my experiences with YEA!, I learned quite a lot. In particular, I learned how to work with people when ideas differ to an extent. I learned the importance of finding a middle ground when minor conflicts arise. Helping to write the mini-grant under Ms. Clarke's guidance allowed me to learn about a procedure that otherwise I might have never gained any knowledge about with my field of academia (medicine). Working with YEA! taught me many practical features of life by working a lot closer to people within the community rather than just studying what others have done or practicing an art as instructed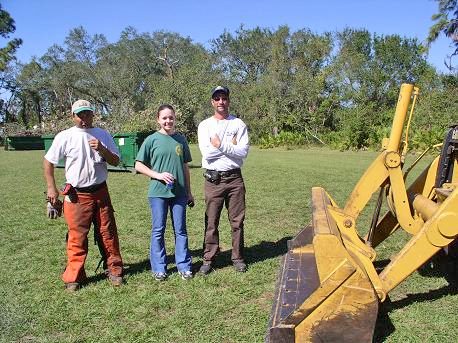 The Hillsborough County Parks, Recreation and Conservation Department Construction and Maintenance Unit I donated the use of the Front-End Loader at right and a Bobcat (not pictured but sitting off to the left) and their respective operators. Also two others from their department volunteered by handling chainsaws on trees and bramble. They are a very amicable and capable unit.
Before this project I had no idea that bobcat was anything but an animal.  Now I not only know what it is but I ordered the rental of the appropriate one and watched it work to improve a community.
In the background, there are several of the dumpsters that we filled with a variety of objects – overgrown foliage and dump-off trash including anything from beds to beer bottles.
The dumpsters were generously rented by YEA! at a highly discounted price from Waste Management. Also, in the distant background, the Bobcat and Front-end Loader are pictured. A local apartment owner donated $100 towards pizza and drinks for the cleanup crew. YEA! had support from the residents, Hillsborough County departments, local apartment owners and small businesses, the First University Seventh-day Adventist Church and the Sheriff's Department. It was an amazing day that unified many people towards a common goal – something you do not see very often.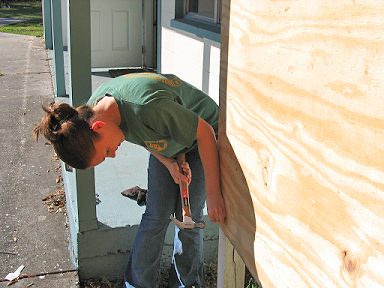 The Creation of the YEA! Sign
Learning how to hammer. I hit my thumb right after this photo was taken (only once though so I learn quickly).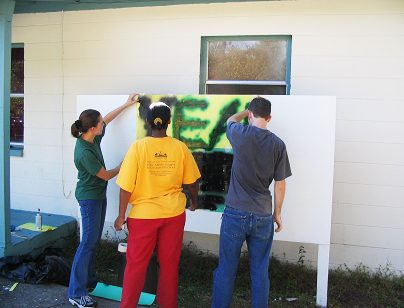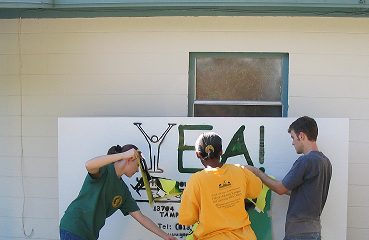 Carefully Peeling Off the YEA! Stencil
Over a time span of about four weeks, I created the layout to the YEA! sign, including figuring out the mathematical and practical aesthetic aspects. Also pictured is my close friend Tom Sentner, who was an environmental science major at the University of Florida who drove down to help the YEA! effort.  It was an intense moment that would reveal whether or not my planning had worked properly. Sure enough, all was well.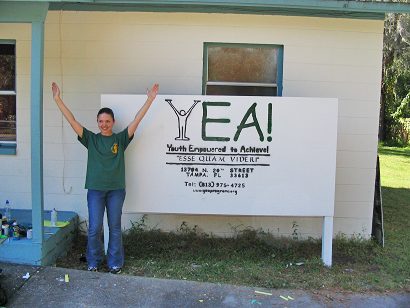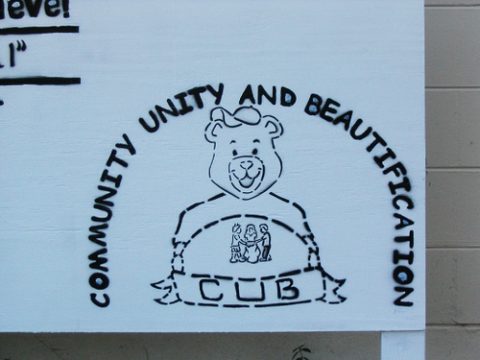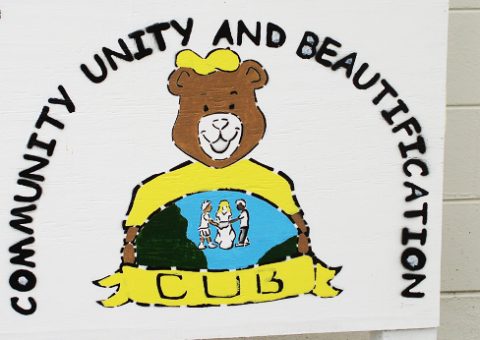 Project CUB Stencil
Next up was the Project CUB logo, which I had re-designed in October 2004. Hopefully it conveys a sense of unity, warmth, and friendliness along with the idea of caring for Mother Nature.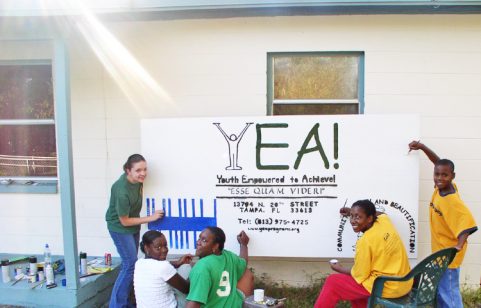 CPU-4-U Stencil
The last logo was for the technology-based class entitled CPU-4-U, which had a 'Matrix'-like blueprint. Children from the neighbourhood helped paint the sign after the basic stencils had been painted/spray-painted on the board.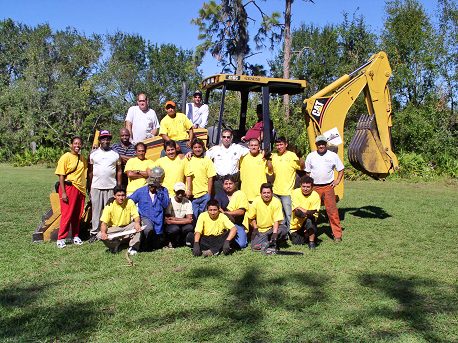 Volunteers included 'Cross Fletcher Neighborhood Association members, YEA! volunteers, Hispanic residents, the Sheriff Department, Hillsborough County Parks, Recreations, and Conservation Maintenance Unit I members. Not pictured: USF Pillars and Honors College members, UF volunteer, Hillsborough County Waste Management, Hillsborough County Office of Neighborhood Relations, local apartment owners, neighborhood children, and other YEA! members. With everyone's help, this November 7th Cleanup was a success. And I know that everyone at YEA! was grateful for all the aid received.
Stephanie Hawk successfully completed her honours thesis and her studies and is now a medical doctor.